Hellraiser Puzzle Box meets the economy from hell
Time…to play…
I have a favorite movie called Hellraiser, some of you may have heard of it, you know that movie with pinhead? Anyway, I love that movie for some strange reason, and I love that little box that everyone is always trying to get their hands on. I found a site that sells them and I ordered one a few years ago.
Quality Lacks
Well I finally got the box after months and many emails hassling the guy for either my money back or the box. when I finally got the box, it was already falling apart. the brass plates were peeling up at the corners and it was tarnished and it looks like he tried to sand the brass to shine it up. It was an unholy piece of crap.
My Vow to the world, or how I sold my soul…
I was pissed. No one should ever have to put up with what I did ever again, nor should this guy ever sell another piece of crap like that ato a Hellraiser fan, ever. So I decided I would make my own.
I got a scan of the box faces, had a friend who does autocad make a blueprint for me of the box faces. I found an etching house to etch the brass that is .005 of an inch thick, it's thin as paper! Then I found a place that could cut me the 3″x3″x3″ cube of wood. I bought some black lacquer and some clear lacquer and off I went, I started making my own hellraiser boxes.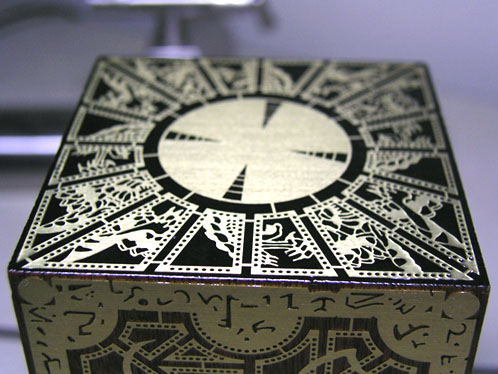 So I started making these things and I started giving them away to all my good friends. I had made about 15 that first run, and I realized when I was down to my last 2 that I had given them all away and not sold any of them. Well ok, call it self promotions, that was a good rationalization.
Ebay's time to play…
I started to make my next batch and I decided I would sell these on Ebay and gt my money back to order more plates. The face plates alone were $800 for 25 sets. Each set is 6 plates, one for each face of the six sided cube. $32 for each box just for the brass plates alone, $5 for the lacquer which one can covered approximately 10-15 boxes. The cube of mahogany were about $5 each. Then there was my time into making them, and it took about 2 weeks to complete one box completely from start to finish. However I make the boxes in lots of 10-15 at a time so about $10 per box for my labor. Ok so roughly $50 for a box, what was my markup going to be?
Oh good, Competition…
I looked on Ebay and saw another guy selling them for an insanely low price. I had to email that guy and tell him he was hurting the market and to raise his prices. The theory behind this is that if you lower the price too low it hurt the industry  and the other people in that industry who are trying to make a living. It's called devaluing the product by making the price so low there is no profit margin.
Well the guy actually did raise his prices and now I had some competition at $150 per box. He was selling them before for like 50$ per box. Insane. Well we both sold our boxes for $150 per box for a while and made a decent profit for a while. It's not the same today in this economy.
The economy from hell…
I can tell that the economy is pretty bad because no one is buying the boxes anymore. I tried putting up 4 boxes a few weeks ago and deliberatly lowered the prices to about $75 and not a single one sold. I even put one up that was signed by Ashley Laurence, the girl who played Kirsty in the first 2 Hellraiser Movies, and no one bit on that either. A quality prop replica like I make is not easy to find at that price and for no one to bid even the lowest one any of them, it's pretty bad out there.
I digress…
It's the same in a lot of different industries that are luxury oriented. The boxes are a luxury, so is photography. I do photography on the side, and the only thing that is happening is baby photography right now, and that is a bit scarce.
So why is baby photography happening and the boxes aren't? like I said, the boxes are a luxury and people don't NEED them. Baby photography is somewhat a necessity for people. The need to document their families for historical purposes, for the sake of having pictures of their darling little babies. This is definitely something that people want and they consider it a NEED. Hellraiser Puzzle Boxes aren't a NEED. They are a WANT. Big Difference.
Reeling it back in…
This is how I find my Niche markets that I plan to cater to. I find something that is a NEED and that people are desperate for. Sometimes its not really a NEED, it's more of a desperate WANT. One of my Niches I am getting ready to exploit, is a segment in the dating industry.  Yes that's right I said exploit. The definition I prefer to use is "To advertise; promote". And not unethically.
I will be advertising and promoting a site that is geared towards a segment of the dating population that doesn't seem to be hit right now. I found this at Google Insights. That is one place to find up and coming Niche markets, another place is Google Trends.  And yet another place is Amazon and Ebay. Just got to each one and look at the best sellers lists. Ebay has Pulse.
The think tank…
Another why I come up with my niche's that I delve into is right here at The Niche Think Tank. Thats what I do here, I brainstorm and think and doodle and come up with new and nifty( that's right, nifty) Niche Markets to Exploit. While I was sitting here writing this I started thinking about how I could get more people to bite on the Puzzle Boxes.
I go for several walks throughout the day and I am usually listening to one of Yaro Staracks Podcasts. While I was walking today thinking about the puzzle boxes and listeing to one of Yaros Podcasts, I had the idea to sell just the brass plates at a discount so that people could make their own. Then my Wife suggested a kit, sell them a 3x3x3 inch block of mahogany and the plates and instructions on how to put it all together. what a great idea. So there you have it, the start of yet another little money maker. Anyway I am hungry and I am going to go get some tacos at Ponces in Kensington.
See you all later.
Larry
P.S. If you would like to see some of my boxes head on over to my Hellraiser Puzzle Box Site:

This blog is successful because of your support, and I'd like to thank you for that. Some of the links are affiliate links and I make a small commission that helps to support the family.
As always I 'd love to hear from you so please leave a comment, and thank for your support!

Be sure to check out my Podcast!